Morton Benjamin "Ben" Katz was born in Toronto, Canada on November 21, 1954. A son of immigrant parents who had survived World War II in Russia and Holland, he always had a propensity to carve his own path. Ben left Toronto for a year abroad, studying and exploring Israel at age 15. When he returned to Canada, slightly matured but still with a spirit of adventure in his heart, he gave university a try, studying for a year at York University. Ben quickly realized that his talents for sales and entrepreneurship outweighed his desire to experience post-secondary education. Ben went on to make his mark in the arts industry, pioneering the concept of telemarketing campaigns to sell theatre subscriptions in Canada and the US. He also helped run an events business called Amazing Events Unlimited Limited, with the great Robin the Ripped. Later, Ben found success as a sales executive in the paper industry, and as a sales consultant for a large investment firm. In the midst of his varied sales career, Ben had three children and, later, two grandchildren.
After the birth of his twins in 1999, he began exploring the world of rare books, owing to his lifelong love of literature. What started as a hobby visiting estate sales and local auctions, and selling his finds through his e-bay business, Ben Buys Books, grew over time as Ben honed his deep knowledge of the field. By the mid-2000s Ben had developed a large network of trusted international sellers and prestigious buyers, ranging from private collectors to Ivy League universities. Through his passion, incredible work ethic and dedication to the rare book, manuscript diary, and ephemera business, Ben Buys Books evolved into M. Benjamin Katz Fine Books/Rare Manuscripts.
Ben dedicated his career in the business to helping people access the material that they needed to enhance their collections, and support academic enrichment for students across the globe. On September 14, 2018, Ben passed away, suddenly and unexpectedly, leaving this business as his legacy. It is with great pride that we are continuing M. Benjamin Katz Fine Books/Rare Manuscripts in Ben's vision. While we have miles to go to gain the knowledge and insight into the business that Ben developed, we are committing to continue to serve our customers, and follow Ben's teachings to continue to grow our own collection so that we may help enhance yours.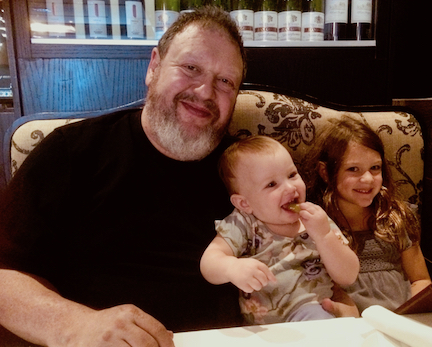 M. Benjamin Katz and his grandchildren, Juliet and Claire, in 2016
Post Nubila Phoebus