Back in July 2015 we had the unfortunate occasion to receive a precious handwritten dairy that had been poorly packaged and suffered a near total loss in a postal machine. The personal diary, which has since been sold, was authored by a young Jamaican born African American servant girl of a prominent Pennsylvania family and we were loath to see this historically significant personal history thrown in the trash. We engaged a Master Conservator and after months of painstaking labour the diary of the 20 year old Miss Venecia Taylor was restored to a viable manuscript relic of this woman's fascinating life. We welcome you to read the report and view the results. 
Conservator Treatment Report
Venecia Taylor Diary
For M. Benjamin Katz, Fine Books/Rare Manuscripts 
Presentation & Condition 
Thin, cloth, case bound account book (7 columns) used as a manuscript diary. 
"Day Book" printed in black on brown coarse linen covering material, stamped decorations in black ink upper and lower boards. 
"Venecia" in pencil on upper board. 
• Book block and case are completely separated, front fly sheet is partially separated from the text at the spine; there is no fly sheet at the end of the text. 
• Machine stitching and a secondary sewing incorporates 3 muslin sewing supports 2 of them separated from the text. 
• Book block is lined for account record but used as a diary with entries in stable manuscript ink and pencil. 
• Page numbers stamped in blue at fore edge, head corner. 
• Margin lines are red and dark blue, water soluble ink. 
• Botanical sample inserted, note inserted, 2 pinned fragments.  

• Considerable damage to first 65 pages of text block due to shipping mishap - mechanical damage. 
• Damage includes severe creasing, tearing, loss of paper & information, scuffing & skinning of paper. 
• Separated cover has not suffered the mechanical damage and is out of scope for this treatment. Cover has distinct musty odour. 
• Stitching is loose w/ stretched sewing holes and a few breaks in the thread. 
• Lining of super has delaminated from text, still attached to boards under the pastedowns. Animal glue consolidating the spine has disintegrated, stains & some accretions remain. 
• Last page 151/152 is almost completely separated. Its conjugate page 125/126 is also separated w/ damage at the head edge - this is old damage not related to the current issues. 
• Spine folds of sections are split at head & tail - sections 1, 2, 3 and last section. 
• Spine folds torn at several sewing holes of first sections. 
• Goal of treatment was to make the contents accessible and as readable as possible. 
Treatment steps. 
First 2 sections - pages disentangled and sections removed from sewing. 
Full sheet humidification; local humidification for damage in section 3, still sewn. 

Drying and flattening in blotter stack in standing press. 
Tears mended with 5 gm Tengu-jo, Kozo tissue, applied w/Jin Shofu (wheat starch paste). 
Mending strips applied generally on verso and occasionally repeated on the recto. 
Example of typical tear & loss: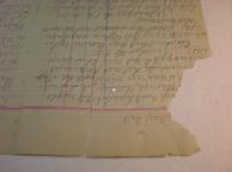 Loss compensation. 
Prepared fill of toned Howard Permalife paper; toned w/ Golden Fluid Acrylic colour.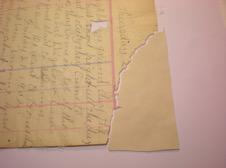 11 gm Tengu-jo as a backing on the verso applied w/cooked Jin Shofu (wheat starch paste).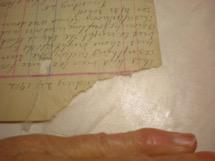 Toned paper applied w/Jin Shofu; finished fill before trimming.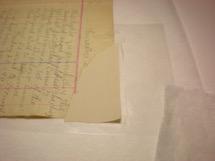 Damaged areas of 3rd section were repaired in situ. 
Mended leaves dehumidified and flattened in standing press.
Remaining sections disband; last page and its conjugate reunited with guard of Kurotani 16, Kozo, & Jin Shofu. 
Page 125 - mends to head of page w/5 gm Tengu-jo applied to both sides. 
Outer spine folds of sections mended as necessary, usually at head and tail. 
Stretched sewing holes and tears a sewing holes mended w/11 gm Tengu-jo. 
Title page reconnected to the 1st section with a "V" hinge of Kurotani paper. 
Sections resewn w/Barbour 25/3 linen thread, link stitched w/ no adhesive consolidation. 
10 pt archival stock four flap folder provided to house the text block. 
          Sewing on arrival.                                           Resewn volume end of treatment. 

Resewn volume end of treatment.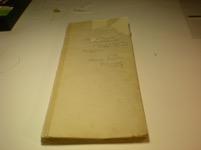 Some additional pictures added by Ben: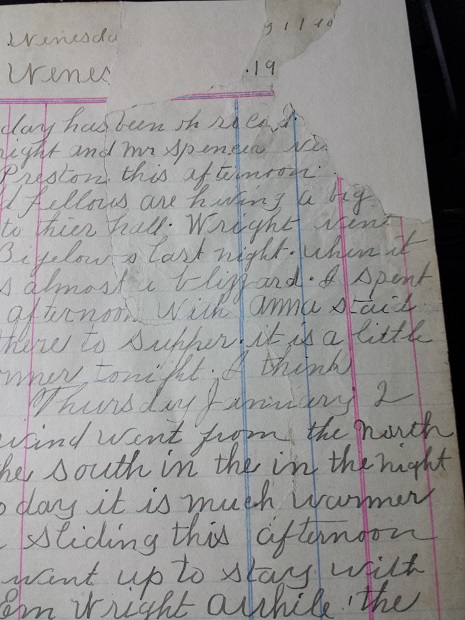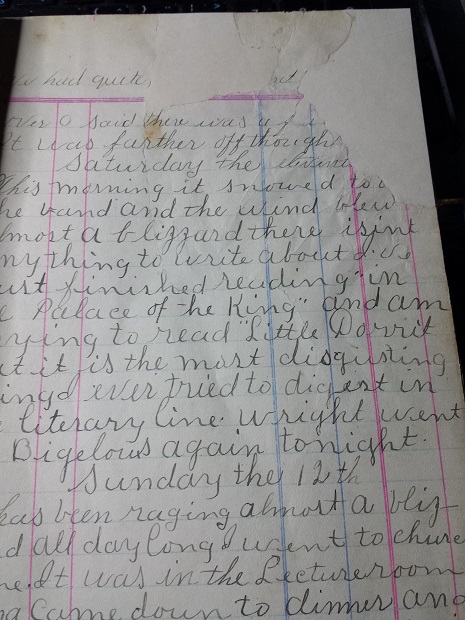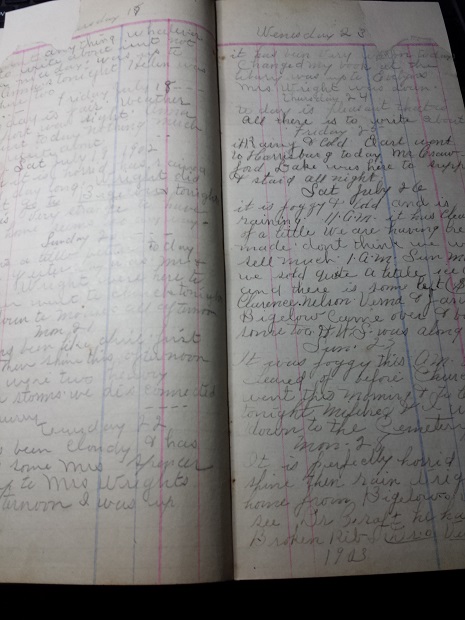 Fini.